Hello! Here at MorningPrint, we receive many amazing designs, and we really enjoy seeing the creative process the designers go through. We enjoy seeing the results received after we send these designs to print. We would like to share some of these creative designs with you to help inspire you as they have inspired us.
Name : Samantha Pal Frazier & Kelsey Pal George
Website : www.twopalgals.com | E-mail : hello@twopalgals.com
Designer : Ashley Thatcher
Company : Ashley & Malone
Website : www.ashleyandmalone.com
E-mail : hello@ashleyandmalone.com
Stock : Heavy Nouveau + Raised Ink (single side)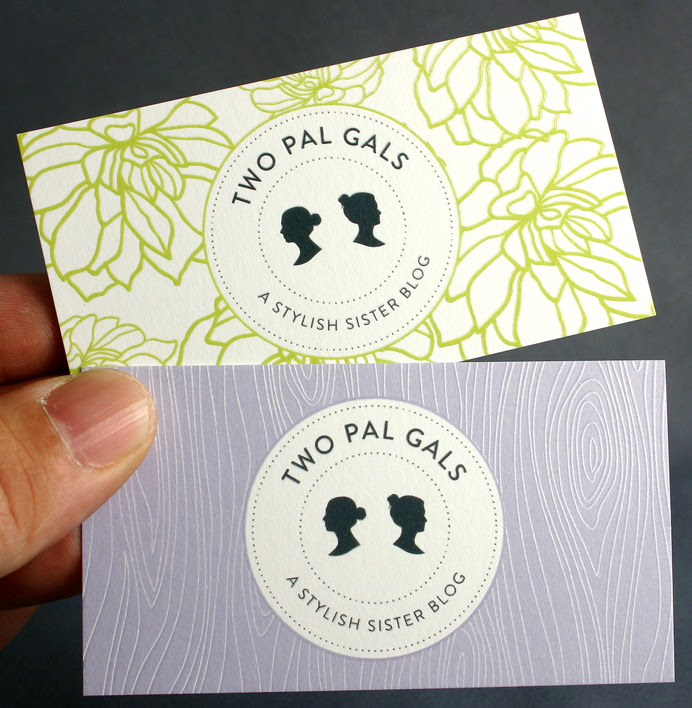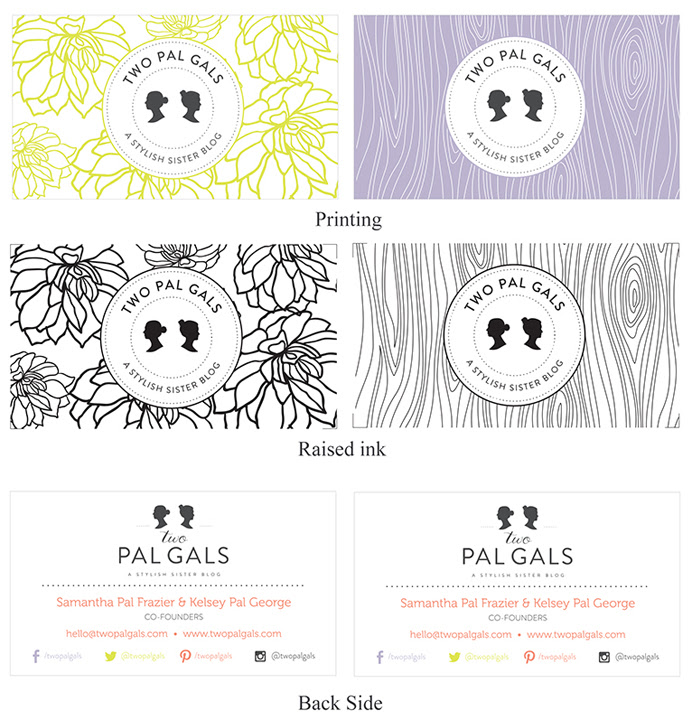 Interview:
Q : Pal Gals briefly tell us and our readers about your fabulous blog and its history:
A : We created Two Pal Gals so that we could have a creative outlet for our passions and be able to work together on fun projects. We wanted to be able to share all the pretty and fun things in our lives with our family and friends and grow closer as sisters, and having a blog gives us an excuse to be crafty. We knew right away that we wanted to invest in a good design for our blog because it would set us apart. Plus, it speaks to our love of beautiful things.
Q : How did you select your designer for this project?
A: Actually, it's a funny story! Samantha receives the MorningPrint newsletter for work, and as soon as she saw Ashley's card featured in the April 2013 newsletter, she knew she had to get in touch with her.When we decided to start our blog we looked at our options, and we both agreed heartily on Ashley's design style. Both of us felt that she designs how we would if we were designers. And, the rest is history!
Q : How was your experience with MorningPrint? Did you experience any difficulties when using MorningPrint, or find anything to be inconvenient or inefficient?
A: Ordering from MorningPrint was a breeze. It couldn't have been easier!
Q : Ashley, we are no strangers to your work but for those readers who may be new to you, briefly tell us about you & your company, its history and what kind of services do you offer?
A: Ashley & Malone is a boutique branding and web design studio specializing in design for creative professionals. We are a husband and wife team and have been in the industry for over 20 years combined. Our process is fun, thorough and always ensures our clients are happy!
Q : In this order two sets were made, both with a very textural feel how did you and the Pal Gals come up with this concept?
A: In the branding for Two Pal Gals, I came up with a few unique patterns. One was the bright chartreuse floral and the second was a more feminine lilac faux-bois. I wanted the card to have a textile feel and really pop off the page.Samantha and Kelsey couldn't choose between the two designs, so they decided to have both printed!
Q : How did you and the Pal Gals decide on the Heavy Nouveau stock with raised ink?
A: Heavy Nouveau is a favourite stock of mine from Morning Print. It has a boutique stock feel and I find it quite luxe! I chose raised ink to give the card a nice feel to the hand.
Q : When working with your clients, how do you get to the bottom of the style / design / products you will offer them?
A: Each client is given a branding and website workbook. Which they fill out everything from their favourite colours, to their long term business goals. We get to the bottom of what makes their business tick and then develop the look and feel further with a mood board design. The mood board process is one of the most important steps, as it provides direction in the overall feeling of the new design. Then we get to work on the branding and choose collateral pieces that will help grow the business.
Q : Any tips for our clients to consider when they are creating their business cards?
A: There are so many options you can combine to get a dreamy card that has massive appeal. Don't be afraid to play around with all the options from Morning Print. Add matte gold foil, with embossing or add spot gloss with a die cut shape. The options are endless and a unique combination can really make your card shine!
***Offer Ashley & Malone: We will offer any new client that books any of our three packages a 10% off discount, if they book in the month of February 2014.
Don't forget to check out Ashley's first interview to see her creative card!